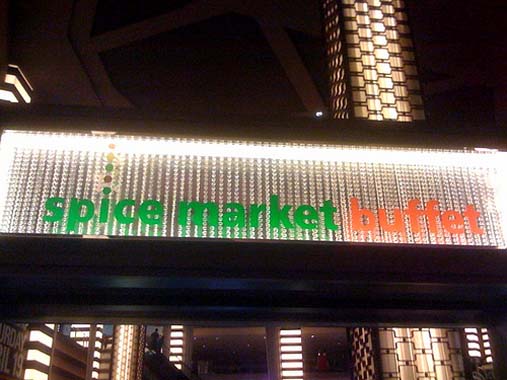 Address: 3667 S Las Vegas Blvd, Las Vegas, NV 89109
Phone: (702) 7855555
It's no wonder that Planet Hollywood's Spice Market Buffet has been voted best buffet in Las Vegas again and again. The buffet features fare from around the world. If you and your entourage can't decide on a cuisine, this Las Vegas buffet makes it easy.
From Mexican and Italian to Asian and American, pile your plates high and go back for seconds possibly thirds. This Vegas buffet also features an extensive Middle Eastern/
Mediterranean
section. Vegetarians can enjoy hummus, grilled vegetables, two full salad bars and meat free pizza. Chefs bake all pizzas in
stone
fire oven.
End with tantalizing desserts, like cotton candy,
sugar free
cakes
and cookies. For Sunday brunch indulge in unlimited champagne and mimosas, which are perfect after a night of partying.
The restaurant includes movie posters with
food related
 titles. Keep your eyes peeled for fun ones like "
Breakfast at Tiffany's
," "Attack of the Killer Tomatoes" and more.
---