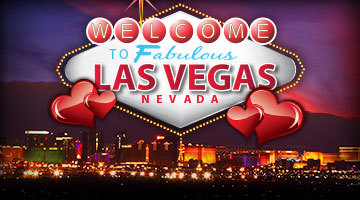 Published on Wed, Feb 1, 2017 by Ariel Abbott

Many Las Vegas restaurants offer special Las Vegas Valentine's Day menus, which can often times be over $100/person. No matter how much you love that certain someone, Casino Boy knows that Valentine's Day can do some unwanted damage to the bank account. What many don't realize is that there are many romantic free things to do in Las Vegas and special Las Vegas Valentine's Day offers that can help you save some money without disappointing your Valentine. Enjoy this guide for Valentine's Day in Las Vegas, enjoy a romantic Las Vegas Valentine's Day without breaking budget. We have found the best Valentine's Day Las Vegas deals of 2013 for romance on a budget.
1.
If you want to treat the one you love to a romantic Las Vegas Valentine's Day and save money without looking cheap, consider staying at the
Travelodge
Las Vegas.The Travelodge Las Vegas has an incredible Deluxe King Poolside Patio room that is perfect for getting your other half in the Valentine's day mood. With this deal, you can save on Valentine's Day in Las Vegas without sacrificing the romance.
2. If you're on a tight budget, consider some free romantic activities in Las Vegas.



Take your Valentine to the Paris Las Vegas Eiffel Tower for a romantic view of Las Vegas from 50 stories high. There's no need for big spending in Las Vegas for Valentine's Day to get that romantic setting for your loved one.
Roam the beautiful Caesars Palace Las Vegas Forum Shops with your Valentine. This indoor mall with an outdoor feel will transport you and your Valentine to the romantic Roman Empire for an experience neither of you will forget.
Watch the Fountains of Bellagio! No matter what Las Vegas hotel you're staying at, you can enjoy the romantic setting of the Bellagio fountains at this beautiful lake on the Las Vegas strip. The romantic aquatic show is bound to make the love between you and your valentine flow stronger.
3. If you're thinking of taking your Valentine out for dinner in Las Vegas for Valentine's day, many Las Vegas restaurants offer Valentine's day menus.
Fleming's Steakhouse
will be serving a 3-course dinner featuring a Filet Mignon paired with your choice of New Zealand Salmon or a scrumptious Australian Lobster Tail. That whole dinner will scream romance and luxury.
For about $69/person you can dine with your Valentine in Las Vegas in
Lawry's
The Prime Rib. This romantic Las Vegas restaurant for Valentine's day offers a jumbo shrimp cocktail and creamed spinach appetizer, beef wellington, atlantic salmon and lobster tails for the entrée, and their signature chocolate cart for dessert.
Buca di Beppo
is offering a Valentine's Day pre fix menu at $50 for 2 love birds! This Valentine's day menu is great because it comes with a lasagna, a mixed green or caesar salad, garlic bread and two mini cannolis for this special night! Also did we mention that the lasagna is HEART SHAPED! Ah! So cute!